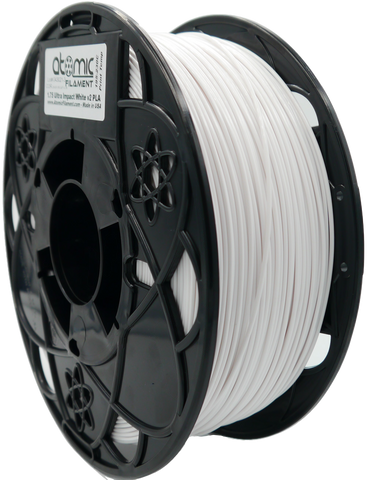 Sample Coil PLA - Ultra Impact Modified White v2
Ultra Impact Modified White v2 PLA Filament
Impact modified to reduce brittleness and increased part strength / impact resistance. TOUGH AND DURABLE PRINTS
Formulated to print exceptionally well compared to most other white filaments on the market.
Check out our vast collection of 1.75mm filament sample coils. They are a great low cost opportunity to checkout new products or feed your 3D Pen  / Printer. 
Sample coils are 50 grams and come bagged with a desiccant packet to ensure dryness.
Available in 1KG rolls- Click HERE
Also available in 3.5KG rolls- Click HERE 
Specifications 
 Print temp 190 to 230C
 +/- 0.02mm or less average diameter variation
 0.03 mm or less out of round 
Resin Type : Virgin NatureWorks Ingeo PLA + HD EXTREME Impact Modifier
---
We Also Recommend