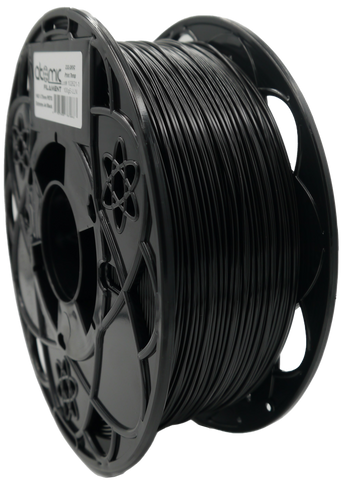 Sample Coil PETG - Extreme Jet Black
Extreme JET Black PETG PRO Filament -- The darkest, most true tone black filament.
An extremely pure black colorant with no off shades of grey, not carbon black based, and full synthetic color formulation.
If you are looking for a specialty black filament that has no shades of gray under intense lighting, as is common with carbon based black pigments, this is IT!
Looks stunning in bright lights or regular lighting. 
Specifications :
Nearly ZERO warpage prints, extremely strong layer bonds, little to no odor at all.
Quality / Specs:
 Print nozzle temp -  240 - 265C
 Heated Bed temp -    80c  +-10
 Diameter (volumetric variation XY combined) + - 0.02mm or better
 Roundness ( ovality ) + - 0.02 mm or better
---
We Also Recommend