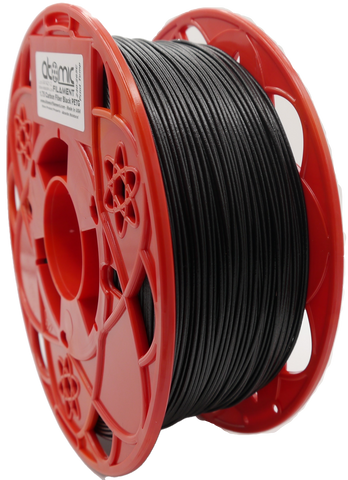 Sample Coil PETG - Carbon Fiber Extreme Black PETG
CARBON FIBER INFUSED Deep Black Opaque Extreme PETG PRO
50 GRAM SAMPLE COIL in 1.75mm Diameter
Sample coils ship free with filament roll purchase. Sample coils are charged $3.49 USPS shipping without a filament purchase. You can purchase multiple filament sample coils and pay just $3.49 shipping for all of them.
Prints with a deep black slightly textured surface & no transparency.
Filament and parts are NOT brittle like some other CF products. Excellent for professional looking technical prints.
Engineering grade PETG resin with USA made premium MILLED carbon fiber NOT powder or dust.
PETG is a newer printing filament and has the advantage of printing easily like PLA, but offering higher temp and impact resistance like ABS.
Carbon fiber infused filament benefits:
Increased rigidity / strength
Highly desirable texture / look
Greatly reduced part shrink / warp
Greatly reduced stringing / angel hairs
Printed parts hold better details / sharp corners
Quality / Specs
Print nozzle temp -  240 - 265C
Print nozzle size -  0.40mm or larger
Heated Bed temp - 60 - 79c
Diameter (volumetric variation XY combined) + - 0.02mm or better
Roundness ( ovality ) + - 0.02 mm or better
* mild abrasive to print nozzles.
---
We Also Recommend