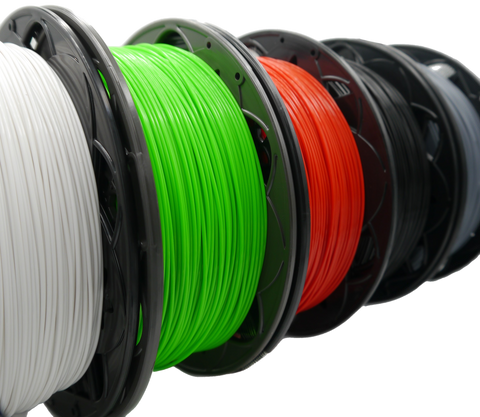 10 Pack PETG- Short Spools 70% min 1.75MM
10 Pack 1KG spool assorted Colors 1.75MM PETG. Photo is for display purposes only, boxes are random and colors may vary.
BOX WILL CONTAIN A MINIMUM OF 3 ASSORTED COLORS , SOMETIMES/USUALLY MORE , NO GUARANTEE. RANDOM COLORS.
These spools are short , the box will average 70% (7 kilos of material) full or more. Spools are good diameter and perfectly printable - may contain a partial or full spool that is off color spec or a transition roll. Product is good and printable but MAY contain a defect , not be spooled perfectly , may have some dust on it , etc  
 Spools are vac bagged and sealed with desiccant.
 Sign up for email notifications , these boxes are added to stock in real time and go EXTREMELY QUICK (WITHIN 5 MINUTES) , FIRST COME FIRST SERVE, IF YOU GET THE EMAIL AND WE ARE OUT OF STOCK BY THE TIME YOU CHECK THE PAGE , SIGN UP AGAIN AS YOU WONT RECEIVE ANOTHER EMAIL. THESE BOXES USUALLY SELL OUT IN 5 MINUTES OR LESS WHEN PUT IN STOCK.
NO RETURNS WHATSOEVER.  FREE SHIPPING USA 48 - SUBJECT TO ADDITIONAL PROCESSING TIME - MAY TAKE 1-3 DAYS TO SHIP OUT
---
We Also Recommend