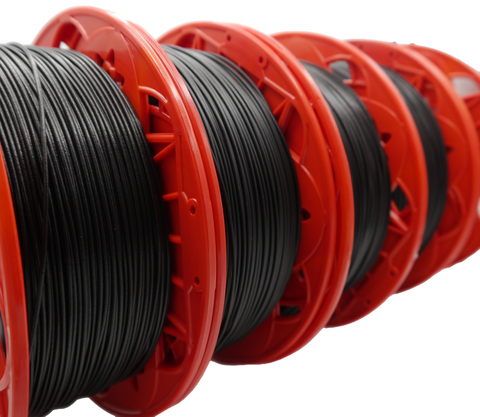 10 Pack CARBON FIBER PETG - Short Spools 70% min 1.75MM
10 Pack 1KG BLACK CARBON FIBER 1.75MM PETG. Photos are for display purposes only. Mystery boxes are random and will vary.
BOX WILL CONTAIN 10 spools of Black CARBON FIBER PETG , EACH SPOOL WILL BE SHORT , THE BOX WILL CONTAIN A TOTAL OF ATLEAST 7KG WORTH OF MATERIAL COMBINED , THIS IS A EXCELLENT DEAL TO SAVE A LOT OF MONEY IF YOU NEED THIS MATERIAL.  PRODUCT MAY NOT BE SPOOLED AS NEAT OR MAY FIND A DEFECT , THIS IS NOT RETAIL GRADE A PRODUCT BUT USUABLE FACTORY REJECTS MOSTLY FROM NOT MAKING WEIGHT. SOLD AS IS - NO RETURNS WHATSOEVER.
These spools are short , the box will average 70% (7kilos of material) full or more. 
 Spools are vac bagged and sealed with desiccant.
 Sign up for email notifications , these boxes are added to stock in real time and go EXTREMELY QUICK (WITHIN 5 MINUTES) , FIRST COME FIRST SERVE, IF YOU GET THE EMAIL AND WE ARE OUT OF STOCK BY THE TIME YOU CHECK THE PAGE , SIGN UP AGAIN AS YOU WONT RECEIVE ANOTHER EMAIL. THESE BOXES USUALLY SELL OUT IN 5 MINUTES OR LESS WHEN PUT IN STOCK.
NO RETURNS WHATSOEVER.  FREE SHIPPING USA 48 - SUBJECT TO ADDITIONAL PROCESSING TIME - MAY TAKE 1-3 DAYS TO SHIP OUT
---
We Also Recommend