Dark Cherry CARBON FIBER Extreme PETG PRO
DARK CHERRY (RIPE MICHIGAN CHERRY) CARBON FIBER INFUSED Extreme PETG PRO
 (This is darker than our NON-CF Dark cherry products) ** This product is stiff and somewhat brittle on the roll in filament form , this is normal due to the process used to manufacture , avoid using product in bowden tubes with tight bends or similar feedpaths**
Same formula as our very popular Extreme Black CF PETG now available in a Dark Cherry color.
Prints with a dark ripe cherry slightly textured surface & no transparency.
Filament and parts are NOT brittle like some other CF products. Excellent for professional looking technical prints.
Engineering grade PETG resin with USA made premium MILLED carbon fiber NOT powder or dust.
PETG is a newer printing filament and has the advantage of printing easily like PLA, but offering higher temp and impact resistance like ABS.
Carbon fiber infused filament benefits:
Increased rigidity / strength
Highly desirable texture / look
Greatly reduced part shrink / warp
Greatly reduced stringing / angel hairs
Printed parts hold better details / sharp corners
Quality / Specs
Print nozzle temp -  238 - 265C
Print nozzle size -  0.40mm or larger
Heated Bed temp - 80c +- 10c
Diameter (volumetric variation XY combined) + - 0.02mm or better
Roundness ( ovality ) + - 0.02 mm or better
* mild abrasive to print nozzles.
Customer Reviews
Write a Review
Ask a Question
Filter Reviews:
color
Atomic
filament
stringing
parts
point
PETG
detail
settings
enclosure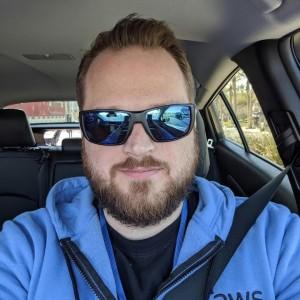 SE
11/12/2021
Sean E.

United States
I recommend this product
Looks Beautiful, Prints Incredible
I wanted to rebuild my Prusa Mk3s into the mk3s+ while changing the color scheme at the same time. After much debate, I chose Atomic's Black / Dark Cherry PETG-CF. After tweaking just a few small settings, I began printing the new parts and was stunned with how beautifully and easily this filament prints. There was almost no stringing, bridging was super easy, bed adhesion was on point, and the color was just GORGEOUS. This filament was as easy to print as PLA, I was just floored by it. If Atomic started making all of their colors with Carbon Fiber, I would buy nothing but their PETG-CF for the rest of my life. 100% worth every penny!
11/15/2021
Atomic Filament
Those prints came out amazing. Well done Sean! You do nice work.
10/05/2021
gary s.

United States
I recommend this product
Nice Looking Hardware
Printed all the hardware for a new enclosure with this material. Deep dark red color looked sharp. The material prints fine detail well and taps well. Essentially, no shrinkage. As always, no stringing.
10/07/2021
Atomic Filament
Glad you like it and are telling our community!
08/14/2021
Craig K.

United States
Never received
I was charged for the filament but there was a problem with delivery. Atomic refuses to do anything to help. I'm out 160+ dollars and nothing but headache and runaround to show for it. Very disappointed.
08/16/2021
Atomic Filament
Yes Craig, we have discussed this with you already. This package has been delivered to a parcel locker and we cannot guarantee the security at any parcel locker or private residence, nor do most insurance policies cover theft.
07/03/2021
Christopher D.

United States
I recommend this product
Looks amazing
Dark Cherry CF PETG is much darker than the non CF stuff, but still a great color. It is at least as strong as the non CF PETG. I am using a Nozzle X to print with and I have had zero issues. I feel like the Carbon Fiber filament even warps less, but mostly I just love the way it looks. Atomic never disappoints, this is going to be one of my favorites for a long time.
07/03/2021
Atomic Filament
Christopher, those are kind words. Thanks for putting your trust in us as your 3D partner.
This filament is so good, it's more like printer ammo
This stuff is absolutely amazing. Extremely easy to print and beautiful results. I've printed it at both .1 and .2mm layer heights, and both settings I can't really see any layer lines. Also, the color is gorgeous, and looks just like the pictures. Works really well for me at the lower temp range (240°) and bed temp at 90° with a smooth PEI sheet. Definitely going to keep coming back for more rolls of this! I keep using it for everything.
---
We Also Recommend