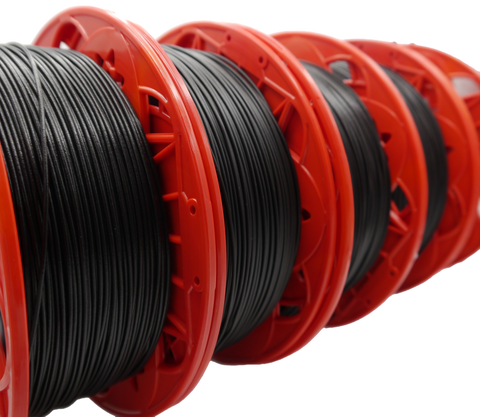 10 Pack Carbon Fiber Nuclear Nylon v3 - Short Spools 70% min 1.75MM
10 Pack Carbon Fiber Nuclear Nylon v3. Photos are for display purposes only. 
BOX WILL CONTAIN 10 spools of CF NUCLEAR NYLON , EACH SPOOL WILL BE SHORT , THE BOX WILL CONTAIN A TOTAL OF ATLEAST 7KG WORTH OF MATERIAL COMBINED , THIS IS A EXCELLENT DEAL TO SAVE ALOT OF MONEY IF YOU NEED THIS MATERIAL.  PRODUCT MAY NOT BE SPOOLED AS NEAT OR MAY FIND A DEFECT , THIS IS NOT RETAIL GRADE A PRODUCT BUT USUABLE FACTORY REJECTS MOSTLY FROM NOT MAKING WEIGHT. SOLD AS IS - NO RETURNS WHATSOEVER.
These spools are short , the box will average 70% (7kilos of material) full or more. 
 Spools are vac bagged and sealed with desiccant.
 Sign up for email notifications , these boxes are added to stock in real time and go EXTREMELY QUICK (WITHIN 5 MINUTES) , FIRST COME FIRST SERVE, IF YOU GET THE EMAIL AND WE ARE OUT OF STOCK BY THE TIME YOU CHECK THE PAGE , SIGN UP AGAIN AS YOU WONT RECEIVE ANOTHER EMAIL. THESE BOXES USUALLY SELL OUT IN 5 MINUTES OR LESS WHEN PUT IN STOCK.
NO RETURNS WHATSOEVER.  FREE SHIPPING USA 48 - SUBJECT TO ADDITIONAL PROCESSING TIME - MAY TAKE 1-3 DAYS TO SHIP OUT
---
We Also Recommend